More than 140+ experts presented their inspiring projects and connected with over 700+ participant worldwide during this year's online edition of the Raw Material Summit 2020 that took place on 29-30 September 2020. The innovative technologies of PLATIRUS projects and its latest project results were one of the successful presentations hosted by the project coordinator TECNALIA along with the support of the partner Monolithos Ltd. (Iakovos Yakoumis) during the EASME session H2020 – Innovation and innovators along the raw materials value chain on 30 September.
PLATIRUS consortium held a presentation sharing insights about the PLATInum group metals Recovery Using Secondary raw materials. The Platirus concept, partnership along with the technologies developed were presented by Guillermo Pozo (TECNALIA), while Iakovos Yakoumis (Monolithos Ltd) presented the incorporation of Deep-Eutectic-Solvents (DES) Leaching Technology developed in the framework of Platirus to MONOLITHOS' integrated circular economy model for manufacturing new automotive catalysts from 100% recycled Platinum Group Metals (EIT Raw Materials CEBRA Up-Scaling Project).
You can download the presentations from here: https://www.platirus.eu/wp-content/uploads/2020/10/EASME_RMSUMMIT_platirus_cebra.pdf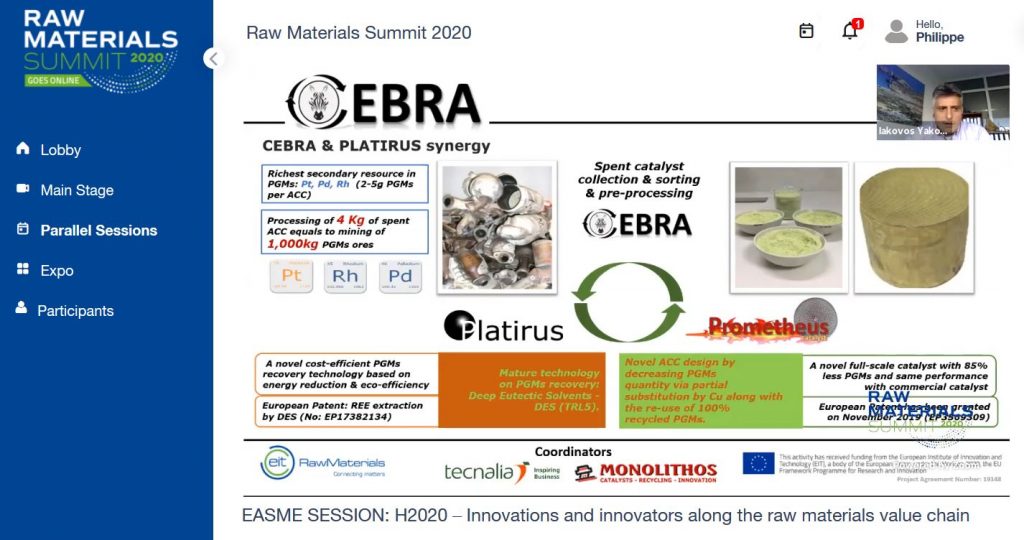 Earlier during the EASME session, PNO Innovation presented another project CROCODILE. Dr. Nader Akil First presented one of a kind commercial compact system for the efficient recovery of cobalt designed with novel integrated leading technologies.
The EASME session has officially started with a welcoming introduction by the EC's representatives about the role and impact of raw materials in supporting the European green deal goal Europe to become CO2 neutral by 2050. The EU's officials also addressed the role of the innovations in EU research funding, in H2020 and in the future Horizon Europe, as well as presented the funding that was mobilised in H2020 for the different topics related to the raw materials sectors. Furthermore, they have also addressed the funding that will be mobilised in Horizon Europe under cluster 4 – Digital Industry and Space, and the EASME support to maximise the impact of R&I public investment. 
The EASME session was then followed by its first panel which aim was to present an occasion to engage with beneficiaries of H2020 projects with a high innovation potential and capacity. The beneficiaries described their projects and innovation potential. During that first session 5 projects were presented and followed by Q&A session for each of them:
X-MINE: Real-Time Mineral X-Ray Analysis for Efficient and Sustainable Mining
IMPaCT: Integrated Modular Plant and Containerised Tools for Selective, Low-impact Mining of Small High-grade Deposits
ITERAMS: Integrated mineral technologies for more sustainable raw material supply
CROCODILE: First of a kind commercial Compact system for the efficient Recovery Of Cobalt Designed with novel Integrated Leading technologies
SecREEts: Innovations in Extraction of Rare Earth Elements from Phosphate Fertiliser Production
Examples of synergies to boost and scale-up innovative results along the raw materials value chain were the focus during the second part of the EASME #innovation track, H2020 and EIT RawMaterials projects. A total of 11 synergetic project presentations were held in the second part, including PLATIRUS project:
UNEXMIN & UNEXUP: Autonomous Underwater Explorer for Flooded Mines & upscaling
Blue Nodules & Blue Harvesting: Blue Nodules: Breakthrough Solutions for the Sustainable Harvesting and Processing of Deep Sea Polymetallic Nodules, Blue Harvesting: Hydraulic Collector for Polymetallic Nodules from the Deepsea
Real-Time-Mining & VAMOS & INSite: Real-Time Mining: Real-time optimization of extraction and the logistic process in highly complex geological and selective mining settings, VAMOS: Viable and Alternative Mine Operating System!, INSite: Insitu ore grading system using LIBS in harsh environments
LOCO2Fe & ReclaMet: LOCO2Fe: Development of a Low CO2 Iron and Steelmaking Integrated Process Route for a Sustainable European Steel Industry, ReclaMet: Reclaiming valuable metals from process residues with the HIsarna process
PLATIRUS & CEBRA: PLATIRUS: PLATInum group metals Recovery Using Secondary raw materials, CEBRA: Integrated Circular Economy Business model for decoupling Europe from PGM supply.