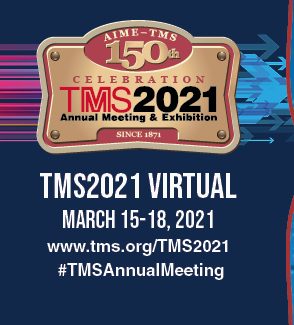 PLATIRUS project will take part in the annual TMS-2021 Conference this year. The event will be held virtually on 15-18 March 2021 and will gather more than 4,000 experts from the sector.
Our partner SINTEF will participate in the Symposium panel for Rare Metal Extraction and Processing. Ana Maria Martinez will give a presentation with the following title:
Title: "Extraction of Platinum Group Metals from Spent Catalyst Material by a Novel Pyro-metallurgical Process".
Date: 15 March 2021, online
Time: 3:00 PM – 3:20 PM (Eastern Daylight Time, UTC-4:00)
The full agenda for the TMS-2021 Conference can be downloaded from here.
The TMS Annual Meeting & Exhibition brings together more than 4,000 engineers, scientists, business leaders, and other professionals in the minerals, metals, and materials fields for a comprehensive, cross-disciplinary exchange of technical knowledge.
Follow the event on #TMSAnnualMeeting.
For registration: https://www.tms.org/TMS2021 .